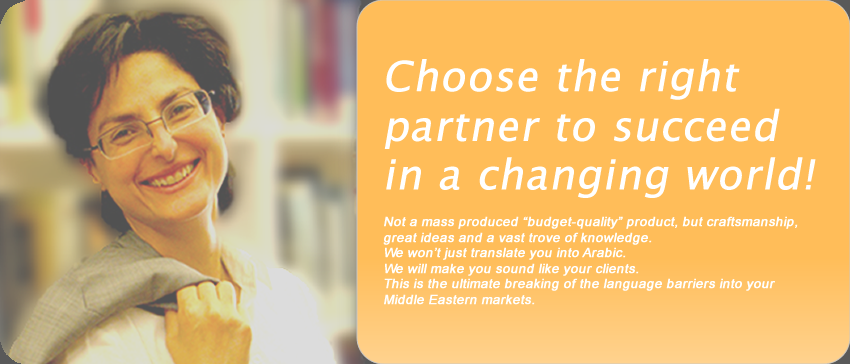 People warm up to you if you speak in their language. They will warm up to your products and services, too, if they are translated into Arabic.
Being accessible to your audience in Arabic means you have a competitive edge over your competition.
About 280 million people speak Arabic and it is the official language of 22 countries. It is also one of the world's top 10 languages.
Many of the Arab countries have world's highest GDPs. They offer a vast business potential, but it is also one of the most culture-dependent
There are also almost 6 million Arabs in various communities in the English-speaking world, creating a parallel market for your goods and services.

We will

Listen to you, and understand what you want to achieve.
Look at your budget and make suggestions as to what needs to be translated, and what doesn't.
Look at your corporate identity and advise you how it would be perceived in the Arab world.
Research what your clients are saying in the Arab world about your products, or about your competitors.
Ensure you understand the contents of any documents in Arabic that you may need to sign.
Provide cultural awareness training for your staff.
Ensure that the final product reflects you and your values

Translation, like brain surgery and architecture, is part professionalism and part craftsmanship. It is about culture and concepts as much as it is about language.
Well translated materials reflect positively on the client. They can lead to gaining market share and consequently to increased profits, as well as avoiding potential legal problems.
At Arabic Communication Experts, we have over 50 years of cumulative knowledge, qualifications and experience to be able to deliver on our promise to you.
When your goal is to be an ace in your field, you need to partner with the best to achieve your dreams. Partner with us. Partner with an ACE in your hand.